Patali Gur Delights: Discover the Richness of this Winter Essential for Authentic Sweet Creations
₹275.00
Discover the exquisite sweetness of Patali Gur, a treasured national delicacy renowned for its rich flavors and iron-packed goodness. Handcrafted from date palm sap, this South-east Asian gem, also known as Date Palm Jaggery, adds a delightful touch to desserts and savory dishes. This natural sweetener is sure to enhance your sweet dishes and make you want to indulge more in its smoky aroma.
This Product Currently Unavaliable for this pincode
Description
Unveiling the Essence of Patali Gur: A Winter Culinary Delight
Indulge in the authentic allure of Patali Gur, also known as Khejur Gur, a natural sweetener with a rich, caramel-like flavor that plays a pivotal role in Bengali sweet making. This unrefined jaggery, extracted from the sap of date palm trees, boasts a deep and complex profile reminiscent of molasses and toffee.
Harvesting and Crafting Patali Gur
Harvested between November and February in West Bengal and throughout Bangladesh, the process of extracting Patali Gur involves tapping the sap from date palm trees, collecting it in earthen pots, and boiling it to a thick consistency. As it simmers, it transforms into a dark, viscous liquid, retaining the natural sweetness of the palm juice.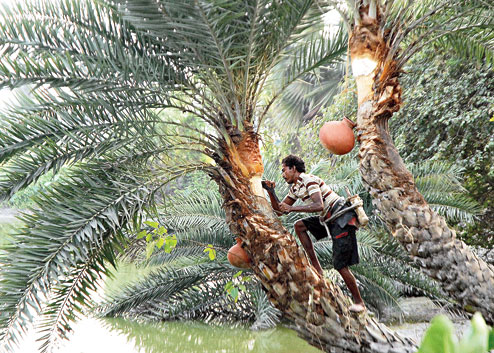 Culinary Heritage and Festive Celebrations
Patali Gur is not just a sweetener; it's a symbol of warmth, festivity, and tradition. Festivals like Makar Sankranti and Poush Parbon in South-East Asia celebrate this ingredient. Its integration into modern desserts and fusion recipes showcases its versatility, appealing to a broader audience seeking authentic flavors and natural sweetness.
Nutritional Benefits and Health Appeal
Beyond its taste and cultural significance, Patali Gur offers nutritional benefits, containing essential minerals such as iron, magnesium, and potassium. Favored over refined sugar for its health properties, it's a popular choice among our customers.
A Winter Essential for Your Kitchen
Ideal for desserts, cooking, and beverages, Patali Gur is a must-have winter ingredient. Elevate your culinary creations with this organic, low-glycemic index sweetener that not only tantalizes the taste buds but also offers health benefits.
Order Now and Sweeten Your Home
Why wait? Order our premium Patali Gur online or visit your nearby Ganguram store to grab this winter essential. Transform your home into a sweeter and tastier abode with the authentic allure of Patali Gur.
Additional information
| | |
| --- | --- |
| Weight | 0.5 kg |
| quantity | 1 container |
| net weight | 750 grams |
| shelf life [summer] | up to 3 months |
| shelf life [winter] | up to 3 months |
Patali Gur Delights: Discover the Richness of this Winter Essential for Authentic Sweet Creations
Your review
* Review is required
Email
* Email is required
Product is avaialble in below zipcode areas.
110001
110002
110003
110004
110005
110006
110007
110008
110009
110010
110011
110012
110013
110014
110015
110016
110017
110018
110019
110020
110021
110022
110023
110024
110025
110026
110027
110028
110029
110030
110031
110032
110033
110034
110035
110036
110037
110038
110039
110040
110041
110042
110043
110044
110045
110046
110047
110048
110049
110051
110052
110053
110054
110055
110056
110057
110058
110059
110060
110061
110062
110063
110064
110065
110066
110067
110068
110069
110070
110071
110072
110073
110074
110075
110076
110077
110078
110080
110081
110082
110083
110084
110085
110086
110087
110088
110089
110090
110091
110092
110093
110094
110095
110096
110097
110099
121001
121002
121003
121004
121005
121006
121007
121008
121009
121010
121012
121013
121014
121015
121101
121102
121103
121105
121106
121107
122001
122002
122003
122004
122005
122006
122007
122008
122009
122010
122011
122012
122015
122016
122017
122018
122051
122052
122098
122101
122102
122103
122104
122105
122107
122108
122413
122414
122502
122503
122504
122505
122506
122508
123001
123021
123023
123024
123027
123028
123029
123031
123034
123035
123101
123102
123103
123106
123110
123301
123302
123303
123401
123411
123412
123501
124001
124010
124021
124022
124102
124103
124104
124105
124106
124107
124108
124109
124111
124112
124113
124141
124142
124146
124201
124202
124303
124401
124404
124406
124411
124412
124501
124504
124505
124506
124507
124508
124513
124514
125001
125004
125005
125006
125007
125011
125033
125037
125038
125039
125042
125044
125047
125048
125049
125050
125051
125052
125053
125054
125055
125056
125058
125060
125075
125076
125077
125078
125101
125102
125103
125104
125106
125110
125111
125112
125113
125120
125121
125133
125201
126101
126102
126110
126111
126112
126113
126114
126115
126116
126125
126152
127021
127022
127025
127026
127027
127028
127029
127030
127031
127032
127035
127040
127041
127042
127043
127045
127046
127111
127114
127201
127306
127307
127308
127309
127310
127311
127312
131001
131021
131022
131023
131024
131027
131028
131029
131030
131039
131101
131102
131103
131301
131302
131304
131305
131306
131402
131403
131408
131409
132001
132022
132023
132024
132036
132037
132039
132040
132041
132046
132054
132101
132102
132103
132104
132105
132106
132107
132108
132113
132114
132115
132116
132117
132122
132140
132145
132157
133001
133004
133005
133006
133008
133010
133101
133102
133103
133104
133201
133202
133203
133204
133205
133206
133207
133301
133302
134003
134005
134007
134008
134101
134102
134103
134104
134105
134107
134108
134109
134112
134113
134114
134116
134117
134118
134201
134202
134203
134204
134205
135001
135002
135003
135004
135021
135101
135102
135103
135106
135133
136020
136021
136026
136027
136030
136033
136034
136035
136038
136042
136043
136044
136117
136118
136119
136128
136129
136130
136131
136132
136134
136135
136136
136156
140001
140101
140102
140103
140108
140109
140110
140111
140112
140113
140114
140115
140116
140117
140118
140119
140123
140124
140125
140126
140127
140128
140133
140201
140301
140306
140307
140308
140401
140402
140405
140406
140407
140408
140412
140413
140417
140501
140506
140507
140601
140602
140603
140604
140701
140702
140802
140901
141001
141002
141003
141004
141006
141007
141008
141010
141012
141013
141014
141015
141016
141017
141101
141102
141103
141104
141105
141106
141107
141108
141109
141110
141112
141113
141114
141115
141116
141117
141118
141119
141120
141121
141122
141123
141125
141126
141127
141201
141202
141203
141204
141205
141206
141401
141411
141412
141413
141414
141415
141416
141417
141418
141419
141421
141422
141801
142001
142002
142003
142011
142021
142022
142023
142024
142025
142026
142027
142028
142029
142030
142031
142032
142033
142034
142035
142036
142037
142038
142039
142040
142041
142042
142043
142044
142045
142046
142047
142048
142049
142050
142052
142053
142054
142055
142056
142057
142058
142060
143001
143002
143003
143005
143006
143008
143009
143022
143101
143102
143103
143105
143107
143108
143109
143111
143112
143113
143114
143115
143116
143117
143118
143119
143149
143201
143202
143203
143204
143205
143301
143302
143303
143304
143305
143401
143402
143406
143407
143408
143409
143410
143411
143412
143413
143414
143415
143416
143419
143422
143501
143502
143504
143505
143506
143507
143511
143512
143513
143514
143515
143516
143517
143518
143519
143520
143521
143525
143526
143527
143528
143529
143530
143531
143532
143533
143534
143601
143602
143603
143604
143605
143606
144001
144002
144003
144004
144005
144006
144007
144008
144009
144010
144011
144020
144021
144022
144023
144024
144025
144026
144027
144028
144029
144030
144031
144032
144033
144034
144035
144036
144037
144039
144040
144041
144042
144043
144044
144101
144102
144103
144104
144105
144106
144201
144202
144204
144205
144206
144207
144208
144209
144210
144211
144212
144213
144214
144216
144221
144222
144223
144224
144301
144302
144303
144305
144306
144311
144401
144402
144403
144404
144405
144406
144407
144408
144409
144410
144411
144415
144416
144417
144418
144419
144421
144422
144501
144502
144503
144504
144505
144506
144507
144508
144509
144510
144511
144512
144513
144514
144515
144516
144517
144518
144519
144520
144521
144522
144523
144524
144525
144526
144527
144528
144529
144530
144531
144532
144601
144602
144603
144606
144620
144621
144622
144623
144624
144625
144626
144628
144629
144630
144631
144632
144633
144701
144702
144703
144801
144802
144803
144804
144805
144806
144819
145001
145022
145023
145024
145025
145026
145027
145029
145101
146001
146021
146022
146023
146024
146101
146102
146103
146104
146105
146106
146107
146108
146109
146110
146111
146112
146113
146114
146115
146116
147001
147002
147003
147004
147005
147006
147007
147021
147101
147102
147103
147104
147105
147111
147201
147202
147203
147301
148001
148002
148017
148018
148019
148020
148021
148022
148023
148024
148025
148026
148027
148028
148029
148030
148031
148033
148034
148035
148100
148101
148102
148103
148104
148105
148106
148107
148108
148109
151001
151002
151003
151004
151005
151101
151102
151103
151104
151105
151106
151108
151111
151201
151202
151203
151204
151205
151206
151207
151208
151209
151210
151211
151212
151213
151301
151302
151401
151501
151502
151503
151504
151505
151506
151507
151508
151509
151510
152001
152002
152003
152004
152005
152020
152021
152022
152023
152024
152025
152026
152028
152031
152032
152033
152101
152107
152112
152113
152114
152115
152116
152117
152118
152121
152122
152123
152124
152128
152132
160001
160002
160003
160004
160005
160009
160011
160012
160014
160015
160016
160017
160018
160019
160020
160022
160023
160025
160030
160036
160043
160047
160055
160059
160062
160071
160101
160102
160103
160104
171001
171002
171003
171004
171005
171006
171007
171008
171009
171010
171011
171012
171013
171014
171015
171018
171019
171102
171103
171201
171202
171203
171204
171205
171206
171207
171208
171209
171210
171211
171212
171213
171214
171215
171216
171217
171218
171219
171220
171221
171222
171223
171224
171225
171226
171301
172001
172002
172021
172022
172023
172024
172025
172026
172027
172028
172029
172030
172031
172032
172033
172034
172101
172102
172103
172104
172105
172106
172107
172108
172109
172110
172111
172112
172113
172114
172115
172116
172117
172118
172201
173001
173021
173022
173023
173024
173025
173026
173027
173029
173030
173031
173032
173101
173104
173201
173202
173204
173205
173206
173207
173208
173209
173210
173211
173212
173213
173214
173215
173217
173218
173220
173221
173222
173223
173225
173229
173230
173233
173234
173235
173236
174001
174002
174003
174004
174005
174011
174012
174013
174015
174017
174021
174023
174024
174026
174027
174028
174029
174030
174031
174032
174033
174034
174035
174036
174101
174102
174103
174201
174301
174302
174303
174304
174305
174306
174307
174308
174309
174310
174311
174312
174314
174315
174316
174317
174319
174320
174321
174405
174503
174505
174507
175001
175002
175003
175004
175005
175006
175007
175008
175009
175010
175011
175012
175013
175014
175015
175016
175017
175018
175019
175021
175023
175024
175025
175026
175027
175028
175029
175030
175031
175032
175033
175034
175035
175036
175037
175038
175039
175040
175042
175045
175046
175047
175048
175049
175050
175051
175052
175075
175101
175102
175103
175104
175105
175106
175121
175123
175124
175125
175126
175128
175129
175130
175131
175132
175133
175134
175136
175138
175139
175140
175141
175142
175143
176001
176002
176021
176022
176023
176025
176026
176027
176028
176029
176030
176031
176032
176033
176036
176037
176038
176039
176040
176041
176042
176043
176044
176045
176047
176048
176049
176051
176052
176053
176054
176055
176056
176057
176058
176059
176060
176061
176062
176063
176064
176065
176066
176067
176071
176073
176075
176076
176077
176081
176082
176083
176084
176085
176086
176087
176088
176089
176090
176091
176092
176093
176094
176095
176096
176097
176098
176101
176102
176103
176107
176108
176109
176110
176111
176115
176125
176128
176200
176201
176202
176203
176204
176205
176206
176207
176208
176209
176210
176211
176213
176214
176215
176216
176217
176218
176219
176225
176301
176302
176303
176304
176305
176306
176308
176309
176310
176311
176312
176313
176314
176315
176316
176317
176318
176319
176320
176321
176323
176324
176325
176326
176401
176402
176403
176501
176502
176601
177001
177005
177006
177007
177020
177021
177022
177023
177024
177025
177026
177027
177028
177029
177031
177033
177034
177038
177039
177040
177041
177042
177043
177044
177045
177048
177101
177103
177104
177105
177106
177107
177108
177109
177110
177111
177112
177113
177114
177117
177118
177119
177201
177202
177203
177204
177205
177206
177207
177208
177209
177210
177211
177212
177213
177219
177220
177301
177401
177501
177601
180001
180002
180003
180004
180005
180006
180007
180009
180010
180011
180012
180013
180015
180016
180017
180018
180019
180020
181101
181102
181111
181121
181122
181123
181124
181131
181132
181133
181141
181143
181145
181152
181201
181202
181203
181204
181205
181206
181207
181221
181224
182101
182104
182121
182122
182124
182125
182126
182127
182128
182141
182142
182143
182144
182145
182146
182147
182148
182161
182201
182202
182203
182204
182205
182206
182221
182222
182301
182311
182312
182313
182315
182320
184101
184102
184104
184120
184121
184141
184142
184143
184144
184145
184148
184151
184152
184201
184202
184203
184204
184205
184206
184210
185101
185102
185121
185131
185132
185133
185135
185151
185152
185153
185154
185155
185156
185201
185202
185203
185211
185212
185233
185234
190001
190002
190003
190004
190005
190006
190007
190008
190009
190010
190011
190012
190014
190015
190017
190018
190019
190020
190021
190023
190024
190025
191101
191102
191103
191111
191112
191113
191121
191131
191132
191201
191202
192101
192121
192122
192123
192124
192125
192126
192129
192201
192202
192210
192211
192212
192221
192231
192232
192233
192301
192302
192303
192304
192305
192306
192401
193101
193103
193108
193109
193121
193122
193123
193201
193221
193222
193223
193224
193225
193301
193302
193303
193306
193401
193402
193403
193404
193411
193501
193502
193503
193504
193505
194101
194102
194103
194104
194105
194106
194107
194109
194201
194202
194301
194302
194303
194401
194402
194404
201001
201002
201003
201004
201005
201006
201007
201008
201009
201010
201011
201012
201013
201014
201015
201016
201017
201018
201019
201020
201021
201102
201103
201201
201204
201206
201301
201303
201304
201305
201306
201307
201309
201310
201311
201312
201313
201314
201315
201316
201317
201318
202001
202002
202121
202122
202123
202124
202125
202126
202127
202128
202129
202130
202131
202132
202133
202134
202135
202136
202137
202138
202139
202140
202141
202142
202143
202145
202146
202150
202155
202165
202170
202280
202281
202282
203001
203002
203129
203131
203132
203135
203141
203150
203155
203201
203202
203203
203205
203206
203207
203209
203389
203390
203391
203392
203393
203394
203395
203396
203397
203398
203399
203401
203402
203403
203405
203407
203408
203409
203411
203412
204101
204102
204211
204212
204213
204214
204215
204216
205001
205119
205121
205247
205261
205262
205263
205264
205265
205267
205268
205301
205303
205304
206001
206002
206003
206120
206121
206122
206123
206124
206125
206126
206127
206128
206129
206130
206131
206241
206242
206243
206244
206245
206246
206247
206248
206249
206250
206251
206252
206253
206255
207001
207002
207003
207120
207121
207122
207123
207124
207125
207241
207242
207243
207244
207245
207246
207247
207248
207249
207250
207301
207302
207401
207402
207403
208001
208002
208003
208004
208005
208006
208007
208008
208009
208010
208011
208012
208013
208014
208015
208016
208017
208019
208020
208021
208022
208023
208024
208025
208026
208027
209101
209111
209112
209115
209121
209125
209202
209203
209204
209205
209206
209208
209209
209210
209214
209217
209301
209302
209303
209304
209305
209306
209307
209308
209310
209311
209312
209401
209402
209501
209502
209503
209504
209505
209601
209602
209621
209622
209625
209651
209652
209720
209721
209722
209723
209724
209725
209726
209727
209728
209729
209731
209732
209733
209734
209735
209736
209738
209739
209743
209745
209747
209749
209801
209821
209825
209827
209831
209841
209859
209860
209861
209862
209863
209864
209865
209866
209867
209868
209869
209870
209871
209881
210001
210120
210121
210122
210123
210125
210126
210128
210129
210201
210202
210203
210204
210205
210206
210207
210208
210209
210301
210341
210421
210422
210423
210424
210425
210426
210427
210428
210429
210430
210431
210432
210433
210501
210502
210504
210505
210506
210507
211001
211002
211003
211004
211005
211006
211007
211008
211010
211011
211012
211013
211014
211015
211016
211017
211018
211019
211020
211021
211022
212104
212105
212106
212107
212108
212109
212111
212201
212202
212203
212204
212205
212206
212207
212208
212212
212213
212214
212216
212217
212218
212301
212302
212303
212305
212306
212307
212401
212402
212404
212405
212502
212503
212507
212601
212620
212621
212622
212631
212635
212641
212645
212650
212651
212652
212653
212654
212655
212656
212657
212658
212659
212661
212663
212664
212665
221001
221002
221003
221004
221005
221006
221007
221008
221009
221010
221011
221012
221101
221103
221104
221105
221106
221107
221108
221109
221110
221112
221115
221116
221201
221202
221204
221206
221207
221208
221301
221302
221303
221304
221305
221306
221307
221308
221309
221310
221311
221313
221314
221401
221402
221403
221404
221405
221406
221409
221502
221503
221505
221507
221508
221601
221602
221603
221701
221705
221706
221709
221711
221712
221713
221715
221716
221717
221718
222001
222002
222003
222101
222105
222109
222125
222126
222127
222128
222129
222131
222132
222133
222135
222136
222137
222138
222139
222141
222142
222143
222144
222145
222146
222148
222149
222161
222162
222165
222170
222175
222180
222181
222201
222202
222203
222204
222301
222302
222303
223101
223102
223103
223104
223105
223221
223222
223223
223224
223225
223226
223227
224001
224116
224117
224118
224119
224120
224121
224122
224123
224125
224126
224127
224129
224132
224133
224135
224137
224139
224141
224143
224145
224146
224147
224149
224151
224152
224153
224155
224157
224158
224159
224161
224164
224168
224171
224172
224176
224181
224182
224183
224186
224188
224189
224190
224195
224201
224202
224203
224204
224205
224206
224207
224208
224209
224210
224225
224227
224228
224229
224230
224231
224232
224234
224235
224238
224284
225001
225002
225003
225119
225120
225121
225122
225123
225124
225125
225126
225201
225202
225203
225204
225205
225206
225207
225208
225301
225302
225303
225304
225305
225306
225401
225403
225404
225405
225409
225412
225413
225414
225415
225416
226001
226002
226003
226004
226005
226006
226007
226008
226009
226010
226011
226012
226013
226014
226015
226016
226017
226018
226019
226020
226021
226022
226023
226024
226025
226026
226027
226028
226029
226030
226031
226101
226102
226103
226104
226201
226202
226203
226301
226302
226303
226401
226501
227304
227405
227406
227407
227408
227409
227411
227412
227413
227801
227805
227806
227807
227808
227809
227811
227812
227813
227814
227815
227816
227817
228001
228118
228119
228120
228121
228125
228131
228132
228133
228141
228142
228145
228151
228155
228159
228161
228171
228172
229001
229010
229103
229120
229121
229122
229123
229124
229125
229126
229127
229128
229129
229130
229135
229201
229202
229203
229204
229205
229206
229207
229208
229209
229210
229211
229212
229215
229216
229301
229302
229303
229304
229305
229306
229307
229308
229309
229310
229311
229316
229401
229402
229404
229405
229406
229408
229410
229411
229412
229413
229801
229802
230001
230002
230121
230124
230125
230126
230127
230128
230129
230130
230131
230132
230133
230134
230135
230136
230137
230138
230139
230141
230142
230143
230144
230201
230202
230204
230301
230302
230304
230306
230401
230402
230403
230404
230405
230501
230502
230503
231001
231205
231206
231207
231208
231209
231210
231211
231212
231213
231215
231216
231217
231218
231219
231220
231221
231222
231223
231224
231225
231226
231301
231302
231303
231304
231305
231306
231307
231309
231311
231312
231313
231314
231501
232101
232102
232103
232104
232105
232106
232107
232108
232109
232110
232111
232118
232120
232325
232326
232327
232328
232329
232330
232331
232332
232333
232336
232339
232340
232341
233001
233002
233221
233222
233223
233224
233225
233226
233227
233228
233229
233230
233231
233232
233233
233234
233300
233301
233302
233303
233304
233305
233306
233307
233310
233311
241001
241121
241122
241123
241124
241125
241126
241127
241201
241202
241203
241204
241301
241302
241303
241304
241305
241401
241402
241403
241404
241405
241406
241407
242001
242021
242042
242123
242127
242220
242221
242223
242226
242301
242303
242305
242306
242307
242401
242405
242406
242407
243001
243002
243003
243004
243005
243006
243122
243123
243126
243201
243202
243203
243301
243302
243303
243401
243402
243403
243407
243501
243502
243503
243504
243505
243506
243601
243630
243631
243632
243633
243634
243635
243636
243637
243638
243639
243641
243720
243722
243723
243724
243725
243726
243727
243751
244001
244102
244103
244104
244105
244221
244222
244223
244225
244231
244235
244236
244241
244242
244245
244251
244255
244301
244302
244303
244304
244401
244402
244410
244411
244412
244413
244414
244415
244501
244504
244601
244602
244701
244712
244713
244715
244716
244717
244901
244921
244922
244923
244924
244925
244926
244927
244928
245101
245201
245205
245206
245207
245208
245301
245304
246001
246113
246121
246123
246124
246125
246127
246128
246129
246130
246131
246141
246142
246144
246146
246147
246148
246149
246150
246155
246159
246161
246162
246163
246164
246165
246166
246167
246169
246171
246172
246173
246174
246175
246176
246177
246178
246179
246193
246194
246275
246276
246277
246278
246279
246285
246401
246419
246421
246422
246424
246425
246426
246427
246428
246429
246431
246435
246439
246440
246441
246442
246443
246444
246445
246446
246448
246449
246453
246455
246469
246471
246472
246473
246474
246475
246481
246482
246483
246486
246487
246488
246495
246701
246721
246722
246723
246724
246725
246726
246727
246728
246729
246731
246732
246733
246734
246735
246736
246737
246745
246746
246747
246749
246761
246762
246763
246764
247001
247002
247120
247121
247122
247129
247231
247232
247340
247341
247342
247343
247451
247452
247453
247551
247554
247656
247661
247662
247663
247664
247665
247666
247667
247668
247669
247670
247671
247771
247772
247773
247774
247775
247776
247777
247778
248001
248002
248003
248005
248006
248007
248008
248009
248011
248012
248013
248014
248015
248016
248018
248121
248122
248123
248124
248125
248140
248142
248143
248145
248146
248158
248159
248165
248171
248179
248195
248196
248197
248198
248199
249001
249121
249122
249123
249124
249125
249126
249127
249128
249130
249131
249132
249135
249136
249137
249141
249145
249146
249151
249152
249155
249161
249165
249171
249175
249180
249181
249185
249186
249192
249193
249194
249195
249196
249199
249201
249202
249203
249204
249205
249301
249302
249304
249306
249401
249402
249403
249404
249405
249407
249408
249410
249411
250001
250002
250003
250004
250005
250101
250103
250104
250106
250110
250205
250221
250222
250223
250341
250342
250344
250345
250401
250402
250404
250406
250501
250502
250601
250606
250609
250611
250615
250617
250619
250620
250621
250622
250623
250625
250626
251001
251002
251003
251201
251202
251203
251301
251305
251306
251307
251308
251309
251310
251311
251314
251315
251316
251318
251319
251320
251327
261001
261121
261125
261131
261135
261136
261141
261145
261151
261201
261202
261203
261204
261205
261206
261207
261208
261301
261302
261303
261401
261402
261403
261404
261405
261501
261502
261505
261506
262001
262121
262122
262124
262201
262202
262203
262302
262305
262308
262309
262310
262311
262401
262402
262405
262406
262501
262502
262520
262521
262522
262523
262524
262525
262526
262527
262528
262529
262530
262531
262532
262533
262534
262540
262541
262542
262543
262544
262545
262546
262547
262550
262551
262552
262553
262554
262555
262561
262572
262576
262580
262701
262702
262721
262722
262723
262724
262725
262726
262727
262728
262801
262802
262803
262804
262805
262901
262902
262903
262904
262905
262906
262907
262908
263001
263126
263127
263128
263132
263134
263135
263136
263137
263138
263139
263140
263142
263145
263148
263149
263150
263151
263152
263153
263156
263157
263158
263159
263160
263601
263619
263620
263621
263622
263623
263624
263625
263626
263628
263629
263630
263631
263632
263633
263634
263635
263636
263637
263638
263639
263640
263641
263642
263643
263645
263646
263651
263652
263653
263655
263656
263658
263659
263660
263661
263663
263664
263665
263667
263676
263678
263679
263680
271001
271002
271003
271122
271123
271124
271125
271126
271129
271201
271202
271203
271204
271205
271206
271207
271208
271209
271210
271215
271301
271302
271303
271304
271305
271306
271307
271308
271309
271310
271311
271312
271313
271319
271401
271402
271403
271502
271503
271504
271601
271602
271603
271604
271607
271609
271801
271802
271803
271804
271805
271806
271821
271824
271825
271830
271831
271835
271840
271841
271845
271851
271855
271861
271865
271870
271871
271872
271875
271881
271882
271901
271902
271903
271904
272001
272002
272123
272124
272125
272126
272127
272128
272129
272130
272131
272148
272150
272151
272152
272153
272154
272155
272161
272162
272163
272164
272165
272171
272172
272173
272175
272176
272177
272178
272181
272182
272189
272190
272191
272192
272193
272194
272195
272199
272201
272202
272203
272204
272205
272206
272207
272208
272270
272271
272301
272302
273001
273002
273003
273004
273005
273006
273007
273008
273009
273010
273012
273013
273014
273015
273016
273017
273151
273152
273155
273157
273158
273161
273162
273163
273164
273165
273201
273202
273203
273207
273209
273211
273212
273213
273301
273302
273303
273304
273305
273306
273308
273309
273310
273311
273401
273402
273403
273404
273405
273406
273407
273408
273409
273411
273412
273413
274001
274149
274182
274201
274202
274203
274204
274205
274206
274207
274208
274301
274302
274303
274304
274305
274306
274307
274308
274309
274401
274402
274403
274404
274405
274406
274407
274408
274409
274501
274502
274505
274506
274508
274509
274601
274602
274603
274604
274701
274702
274703
274704
274705
274801
274802
274805
274806
274807
274808
275101
275102
275103
275105
275201
275202
275203
275204
275205
275301
275302
275303
275304
275305
275306
275307
276001
276121
276122
276123
276124
276125
276126
276127
276128
276129
276131
276135
276136
276137
276138
276139
276140
276141
276142
276143
276201
276202
276203
276204
276205
276206
276207
276208
276288
276301
276302
276303
276304
276305
276306
276402
276403
276404
276405
276406
277001
277121
277123
277124
277201
277202
277203
277204
277205
277207
277208
277209
277210
277211
277213
277214
277216
277219
277301
277302
277303
277304
277401
277402
277403
277501
277502
277503
277504
277506
281001
281003
281004
281005
281006
281104
281121
281122
281123
281201
281202
281203
281204
281205
281206
281301
281302
281303
281305
281306
281307
281308
281401
281403
281404
281405
281406
281501
281502
281504
282001
282002
282003
282004
282005
282006
282007
282008
282009
282010
283101
283102
283103
283104
283105
283110
283111
283112
283113
283114
283115
283119
283121
283122
283123
283124
283125
283126
283130
283135
283136
283141
283142
283145
283151
283152
283201
283202
283203
283204
283205
283206
283207
284001
284002
284003
284120
284121
284122
284123
284124
284125
284126
284127
284128
284135
284136
284201
284202
284203
284204
284205
284206
284301
284302
284303
284304
284305
284306
284401
284402
284403
284404
284405
284406
284419
284501
285001
285121
285122
285123
285124
285125
285126
285127
285128
285129
285130
285201
285202
285203
285204
285205
285206
285223
301001
301002
301018
301019
301020
301021
301022
301023
301024
301025
301026
301027
301028
301030
301035
301401
301402
301403
301404
301405
301406
301407
301408
301409
301410
301411
301412
301413
301414
301415
301416
301427
301604
301701
301702
301703
301704
301705
301706
301707
301708
301709
301713
301714
302001
302002
302003
302004
302005
302006
302012
302013
302015
302016
302017
302018
302019
302020
302021
302022
302026
302027
302028
302029
302031
302033
302034
302036
302037
302038
302039
302040
302041
302042
302043
303001
303002
303003
303004
303005
303006
303007
303008
303009
303012
303102
303103
303104
303105
303106
303107
303108
303109
303110
303119
303120
303121
303122
303123
303124
303301
303302
303303
303304
303305
303313
303315
303323
303325
303326
303327
303328
303329
303338
303348
303501
303502
303503
303504
303505
303506
303507
303508
303509
303510
303511
303601
303602
303603
303604
303701
303702
303704
303706
303712
303801
303803
303804
303805
303806
303807
303901
303903
303904
303905
303908
304001
304021
304022
304023
304024
304025
304026
304501
304502
304503
304504
304505
304507
304801
304802
304803
304804
305001
305002
305003
305004
305005
305007
305009
305012
305021
305022
305023
305024
305025
305026
305201
305202
305203
305204
305205
305206
305207
305401
305402
305403
305404
305405
305406
305407
305408
305412
305415
305601
305621
305622
305623
305624
305625
305627
305628
305629
305630
305631
305801
305802
305811
305812
305813
305814
305815
305816
305817
305819
305901
305921
305922
305923
305924
305925
305926
305927
306001
306021
306022
306023
306101
306102
306103
306104
306105
306114
306115
306116
306119
306126
306301
306302
306303
306304
306305
306306
306307
306308
306401
306421
306422
306501
306502
306503
306504
306601
306602
306603
306701
306702
306703
306704
306705
306706
306707
306708
306709
306901
306902
306912
307001
307019
307022
307023
307024
307025
307026
307027
307028
307029
307030
307031
307032
307043
307501
307510
307511
307512
307513
307514
307515
307801
307802
307803
311001
311011
311021
311022
311023
311024
311025
311026
311030
311201
311202
311203
311204
311301
311302
311401
311402
311403
311404
311407
311408
311601
311602
311603
311604
311605
311606
311801
311802
311803
311804
311805
311806
312001
312021
312022
312023
312024
312025
312027
312201
312202
312203
312204
312205
312206
312207
312401
312402
312403
312404
312601
312602
312603
312604
312605
312606
312612
312613
312614
312615
312616
312617
312619
312620
312622
312623
312624
312625
312626
312627
312901
313001
313002
313003
313004
313011
313015
313022
313024
313026
313027
313031
313038
313201
313202
313203
313204
313205
313206
313207
313211
313301
313321
313322
313323
313324
313325
313327
313328
313329
313330
313331
313332
313333
313334
313341
313342
313601
313602
313603
313604
313611
313701
313702
313703
313704
313705
313706
313708
313801
313802
313803
313804
313901
313902
313903
313904
313905
313906
314001
314011
314021
314022
314023
314024
314025
314026
314027
314028
314029
314030
314031
314032
314034
314035
314036
314037
314038
314401
314402
314403
314404
314406
314801
314804
321001
321021
321022
321023
321024
321025
321026
321028
321201
321202
321203
321204
321205
321206
321301
321302
321303
321401
321402
321403
321404
321405
321406
321407
321408
321409
321410
321411
321601
321602
321605
321606
321607
321608
321609
321610
321611
321612
321613
321614
321615
321633
321642
322001
322021
322023
322024
322025
322026
322027
322028
322029
322030
322033
322034
322201
322202
322203
322204
322205
322211
322212
322213
322214
322215
322216
322218
322219
322220
322230
322234
322236
322238
322240
322241
322242
322243
322249
322251
322252
322254
322255
322701
322702
322703
322704
323001
323021
323022
323023
323024
323025
323026
323301
323303
323304
323305
323306
323307
323601
323602
323603
323613
323614
323615
323616
323801
323802
323803
324001
324002
324003
324004
324005
324006
324007
324008
324009
324010
325001
325003
325004
325009
325201
325202
325203
325204
325205
325206
325207
325208
325209
325214
325215
325216
325217
325218
325219
325220
325221
325222
325223
325224
325601
325602
326001
326021
326022
326023
326033
326034
326035
326036
326037
326038
326039
326501
326502
326512
326513
326514
326515
326516
326517
326518
326519
326520
326529
326530
327001
327021
327022
327023
327024
327025
327026
327027
327031
327032
327034
327601
327602
327603
327604
327605
327606
327801
328001
328021
328022
328023
328024
328025
328026
328027
328028
328029
328030
328031
328041
328216
331001
331021
331022
331023
331024
331025
331026
331027
331028
331029
331030
331031
331301
331302
331303
331304
331305
331402
331403
331411
331501
331502
331503
331504
331505
331506
331507
331517
331518
331701
331801
331802
331803
331811
332001
332002
332021
332023
332024
332025
332026
332027
332028
332029
332030
332031
332041
332042
332301
332302
332303
332304
332305
332307
332311
332312
332315
332316
332317
332318
332401
332402
332403
332404
332405
332406
332411
332601
332602
332603
332701
332702
332703
332705
332706
332707
332708
332709
332710
332711
332712
332713
332714
332715
332716
332718
332719
332721
332722
332742
332746
333001
333011
333012
333021
333022
333023
333024
333025
333026
333027
333028
333029
333030
333031
333032
333033
333034
333035
333036
333041
333042
333053
333302
333303
333304
333305
333307
333308
333501
333502
333503
333504
333514
333515
333516
333701
333702
333704
333705
333707
333801
334001
334003
334004
334006
334021
334022
334023
334201
334202
334302
334303
334305
334401
334402
334403
334601
334602
334603
334604
334801
334802
334803
334804
334808
335001
335002
335021
335022
335023
335024
335025
335027
335037
335038
335039
335040
335041
335051
335061
335062
335063
335064
335065
335073
335501
335502
335503
335504
335511
335512
335513
335523
335524
335525
335526
335701
335702
335703
335704
335705
335707
335708
335711
335801
335802
335803
335804
335805
335901
341001
341021
341022
341023
341024
341025
341026
341027
341028
341029
341030
341031
341301
341302
341303
341304
341305
341306
341316
341317
341318
341319
341501
341502
341503
341504
341505
341506
341507
341508
341509
341510
341511
341512
341513
341514
341515
341516
341517
341518
341519
341520
341533
341542
341551
342001
342003
342005
342006
342007
342008
342011
342012
342013
342014
342015
342021
342022
342023
342024
342025
342026
342027
342028
342029
342037
342301
342302
342303
342304
342305
342306
342307
342308
342309
342310
342311
342312
342314
342601
342602
342603
342604
342605
342606
342801
342802
342901
342902
343001
343002
343021
343022
343023
343024
343025
343027
343028
343029
343030
343032
343039
343040
343041
343042
343048
343049
344001
344011
344012
344021
344022
344024
344025
344026
344027
344031
344032
344033
344034
344035
344037
344043
344044
344501
344502
344701
344702
344703
344704
344705
344706
344708
344801
345001
345021
345022
345023
345024
345025
345026
345027
345028
345031
345033
345034
360001
360002
360003
360004
360005
360006
360007
360020
360021
360022
360023
360024
360025
360026
360030
360035
360040
360045
360050
360055
360060
360070
360110
360311
360320
360325
360330
360360
360370
360375
360380
360405
360410
360421
360430
360440
360450
360452
360460
360465
360470
360480
360485
360490
360510
360515
360520
360530
360531
360540
360545
360550
360560
360570
360575
360576
360577
360578
360579
360590
361001
361002
361003
361004
361005
361006
361007
361008
361009
361010
361011
361012
361013
361110
361120
361130
361140
361141
361142
361150
361160
361162
361170
361210
361220
361230
361240
361250
361280
361305
361306
361310
361315
361320
361325
361330
361335
361345
361347
361350
362001
362002
362011
362015
362020
362030
362037
362110
362120
362130
362135
362140
362150
362205
362215
362220
362222
362225
362226
362227
362230
362240
362245
362250
362255
362260
362263
362265
362268
362269
362275
362310
362315
362510
362520
362530
362540
362550
362560
362565
362570
362610
362620
362625
362630
362640
362650
362710
362715
362720
363001
363002
363020
363030
363035
363040
363110
363115
363310
363320
363330
363351
363410
363415
363421
363423
363425
363427
363430
363435
363440
363510
363520
363530
363621
363623
363630
363635
363641
363642
363643
363650
363655
363660
363670
363745
363750
363755
363760
363765
363775
363780
364001
364002
364003
364004
364005
364006
364050
364060
364070
364081
364110
364120
364130
364135
364140
364145
364150
364210
364230
364240
364250
364260
364265
364270
364275
364280
364290
364295
364310
364313
364320
364330
364465
364505
364510
364515
364521
364522
364525
364530
364710
364720
364730
364740
364750
364760
364765
365220
365410
365421
365430
365435
365440
365450
365455
365456
365460
365480
365535
365540
365541
365550
365555
365560
365601
365610
365620
365630
365635
365640
365645
365650
365730
370001
370015
370020
370030
370040
370105
370110
370115
370130
370135
370140
370145
370150
370155
370160
370165
370201
370203
370205
370210
370230
370240
370405
370410
370415
370421
370425
370427
370430
370435
370445
370450
370455
370460
370465
370475
370485
370490
370510
370601